Andrea Stocco (University of Washington, Seattle)
Title: Dynamic Causal Modeling Analysis of Flexible Behaviors in Monolinguals and Bilinguals
The fact that bilingualism places unique demands on cognitive control networks, particularly those that enable flexible behavior, is relatively uncontroversial. In the current talk, I will summarize research using Dynamic Causal Modeling to investigate whether these demands have broader implications for shaping bilingual brain functioning. Specifically, I will describe a series of investigations in which network-level brain functioning in monolinguals and bilinguals is assessed using tasks that require cognitive flexibility. In these studies, we find evidence for differences in the functioning of cognitive control networks associated with bilingual language experience. I will discuss these differences in light of the broader literature on cognitive flexibility.
When: Tuesday, June 11, 11:00am
Where: Goodman Cancer Research Centre, 1160 Pine Ave W, room 501
Refreshments will be served before the talk, following the earlier talk by Chantel Prat. We encourage you to bring your own reusable coffee mug and/or water bottle.
Accessibility: Accessible entrances are from Pine Ave (room 501 is just inside the Pine entrance) or through Life Sciences complex, roundabout at 3649 Sir-William-Osler (Take the elevator to the 5th floor, when exiting the elevator turn right and walk all the way to the end of the hallway). Entire building is served by accessible elevators, with accessible washrooms on all levels.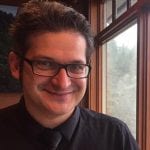 Andrea Stocco is interested in understanding the relationship between cognition and the brain from an information-processing point of view, asking questions such as "What are the fundamental computations needed for this task?" and "How can these computations be implemented within this specific brain circuit?". In particular, he has been interested in the mechanisms that permit intelligent and adaptive behavior, with a particular focus on the interaction between prefrontal cortex and the basal ganglia.